GALESBURG — Sophomore Averi Heintzelman (Sterling, Ill./Sterling) was medalist, and all three members of the Carl Sandburg College women's golf team finished in the top five of the rain-shortened Charger Invite this weekend.
The tournament ended with three holes remaining due to inclement weather on Sunday at Bunker Links. Each player's 33-hole score was considered their total for the tournament. 
Heintzelman had the low round each day, shooting 93 on Saturday at Lake Bracken and 78 at Bunker Links for her first career victory. She won by five strokes over Southeastern's Addie Pry. 
Chargers freshman Anna Duden (Gifford, Ill./Armstrong) was third after shooting 100 on Saturday and 85 in the final round. Freshman Olivia Schwingle (Sterling, Ill./Sterling) shot 109-90 to place fourth.
UP NEXT FOR SANDBURG: Augustana Invite Sept. 4-5 at Highland Springs in Rock Island 
Get text/email notifications of Sandburg Athletics results
Follow @SandburgNJCAA on Twitter
Like @SandburgChargers on Facebook
Follow @SandburgChargers on Instagram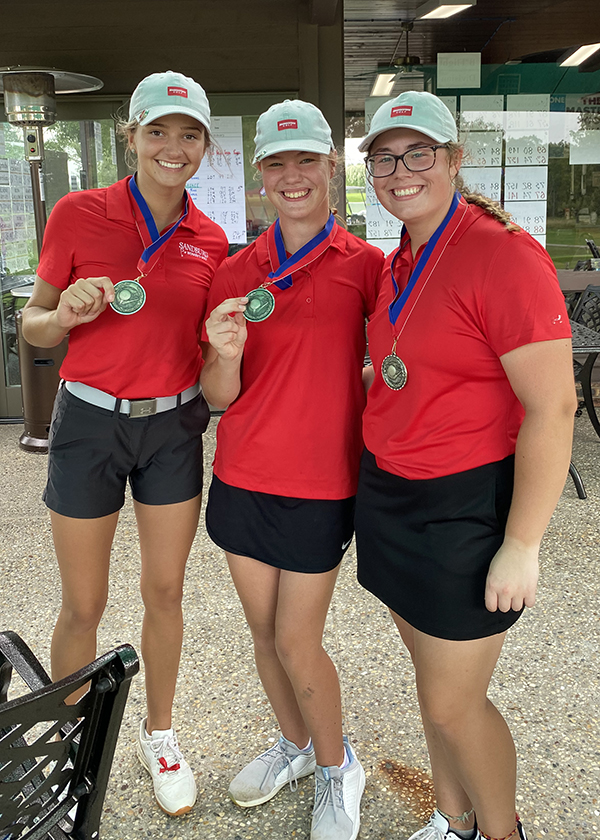 Sandburg women's golfers (from left) Averi Heintzelman, Anna Duden and Olivia Schwingle each finished in the top five of the Charger Invite this weekend.