GALESBURG — The Carl Sandburg College men's and women's cross country teams swept the top spots of their races in a dual meet hosted by the Chargers against Sauk Valley on Saturday 
Sandburg had the first three runners across the line in the 2.25-mile women's race, led by Barbra Jepkirui (Kenya/St. Teresa Girls' Secondary) in 13 minutes, 40 seconds. Mary Njeri Njuguna (Kenya/Turbo Girls Secondary) was second in 13:54, followed by Faith Kiprop (Kenya/AIC Kessup Girls) in 14:15.
The Chargers posted the first five finishers in the men's 5-kilometer race. Emmanuel Kiprop (Kenya/Kericho TEA Boys' Secondary) won in 15:55, with Josphat Langat (Kenya/Alliance) just 1 second behind him for second place.
Also placing in the top five for Sandburg were Calton Kibet (Kenya/Poiywek Secondary) in 16:23, Nicholas Seaver (Industry, Ill./Rushville-Industry) in 18:00 and Brian Kipchemis (Kenya/Segero Adventist) in 18:02. 
Team scores were not kept for either race.
UP NEXT FOR SANDBURG: 5 p.m. Friday at WIU Early Bird
Get text/email notifications of Sandburg Athletics results
Follow @SandburgNJCAA on Twitter
Like @SandburgChargers on Facebook
Follow @SandburgChargers on Instagram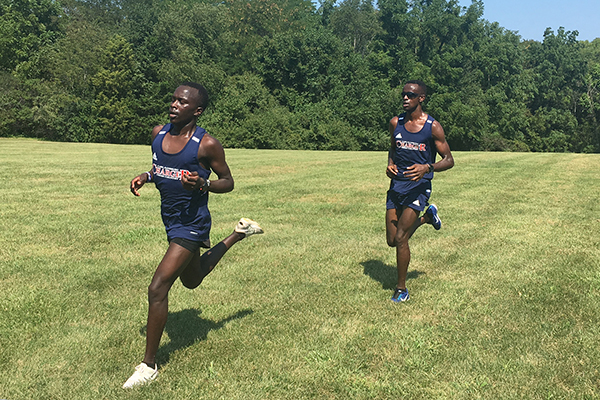 Sandburg's Emmanuel Kiprop (left) and Josphat Langat were the first two finishers in the men's 5K in Saturday's dual with Sauk Valley.