GALESBURG — The works of Preston Jackson, who has been referred to as "one of the greatest Black artists of our time," and William Butler are being featured in Carl Sandburg College's Lonnie Eugene Stewart Art Gallery through Nov. 11.
An opening reception for their exhibit, "Walking the Line," will take place from 5-7 p.m. Oct. 8 in the gallery located in Building D on Sandburg's Main Campus in Galesburg, 2400 Tom L. Wilson Blvd. Both the show and reception are free and open to the public. Those in attendance will be required to wear a mask and fill out a brief health screening survey upon entry.
A native of Decatur and professor emeritus of sculpture at the School of the Art Institute in Chicago, Jackson was selected in 1998 as a Laureate of the Lincoln Academy of Illinois, the highest honor given to an individual in the state. As part of the state's bicentennial in 2018, Jackson was No. 6 on the Illinois Top 200 list celebrating the premier artists in the state's history.
Jackson specializes in bronze steel sculpture and painting, and his public art commissions include works featuring such figures as Martin Luther King Jr., Jean Baptiste Point du Sable, Miles Davis, Ernie Banks and Richard Pryor as well as historic moments such as the 1908 Springfield race riot.
In 1995, Jackson founded the Contemporary Art Center of Peoria, where Butler has served as its executive director since 2003. Jackson and Butler first featured "Walking the Line" as part of the Contemporary Art Center's 25th anniversary last year.
Butler's work has been showcased in Illinois, New York and Toronto, and he has pieces included in the collections at Eastern Illinois University and Western Illinois University. Butler, who paints with acrylic using brushes and paint rollers on pieces of board, paper and canvas, has maintained a studio at the Contemporary Art Center since 1996.
Established in 2006 and named for area artist Lonnie Eugene Stewart in 2015, the Lonnie Eugene Stewart Art Gallery has hosted group faculty exhibits, juried student exhibits and the works of area professional artists. For more information, contact Lisa Walker at 309.341.5303 or ldwalker@sandburg.edu.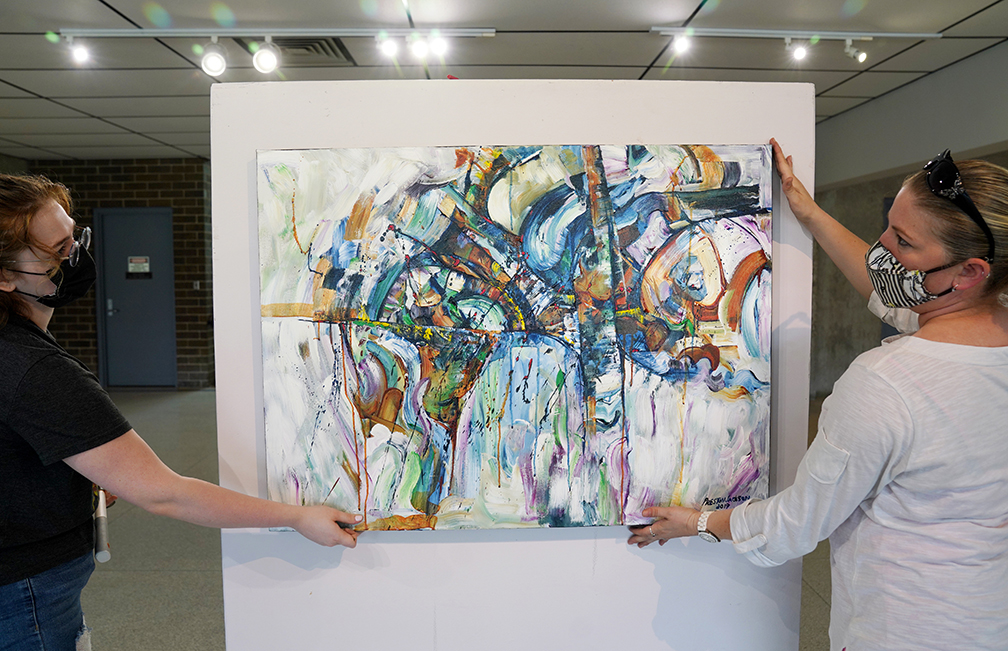 Faculty and students in the Carl Sandburg College art program install pieces for Preston Jackson and William Butler's show "Walking the Line," which is on display in the Lonnie Eugene Stewart Art Gallery through Nov. 11. An opening reception for the show will take place from 5-7 p.m. Oct. 8.