GALESBURG — It was November of last year when Nila Purifoy finally reached her breaking point.
"I was in a job that really wasn't good for me or my mental health," Purifoy said. "It was terrible. That's when I started thinking about coming back to school to do something that I actually wanted to do."
Not long after that, Purifoy left her job and decided she was going to enroll at Carl Sandburg College. Purifoy, 26, had gone to Sandburg after graduating from Galesburg High School in 2013, but she stayed only a semester before leaving school to focus on working.
"I didn't know exactly what I wanted for my education back then. And I kind of regret it in a way, but I'm glad that I'm back," Purifoy said. "Coming back at an older age, it helps a little bit because I have kids now, I have a home. There's just something missing, and it's my education."
Purifoy had worked jobs in a pharmacy and at the courthouse, among other things, but nothing she did gave her a sense of fulfillment and satisfaction. She set out to change that by coming back to Sandburg this fall to study toward a certificate in licensed practical nursing (LPN). After that, she plans to continue at Sandburg and get her Associate in Applied Science in registered nursing (RN).
"The jobs that I've had are just jobs that I could get and not something that I really wanted to do," Purifoy said. "I want to change lives. I want to help others."
The feelings she had walking into Sandburg for the first day of the fall semester were no different than what other students often experience. Scared. Nervous. Hesitant. Uncertain. Purifoy spent time in the first weeks of school staying after class to study and get into a routine. The only difference she noticed was she was older than most of the other students in her classes.
"I see all these young kids," Purifoy said, laughing, "and I'm old compared to these students just coming out of high school."
She thought back to what it was like for her at their age, uncertain about what direction she wanted to go with her life. Now back with a more solidified plan, Purifoy is studying not only for herself but also to set an example for her two children, 9-year-old Isaac and 5-year-old Nora. Just thinking about what it would mean to be the first in her family to graduate from college and to show her children what their mom is capable of accomplishing was enough to make Purifoy emotional.
"I'll cry if I try to explain just how amazing that would be and for them to see that and know that it's possible," Purifoy said. "For a long time, I didn't believe that I could do it, and you have to believe for yourself. For a long time, I was kind of lost in a way. I'm happy that I'm back, and I'm proud of myself, which means a lot."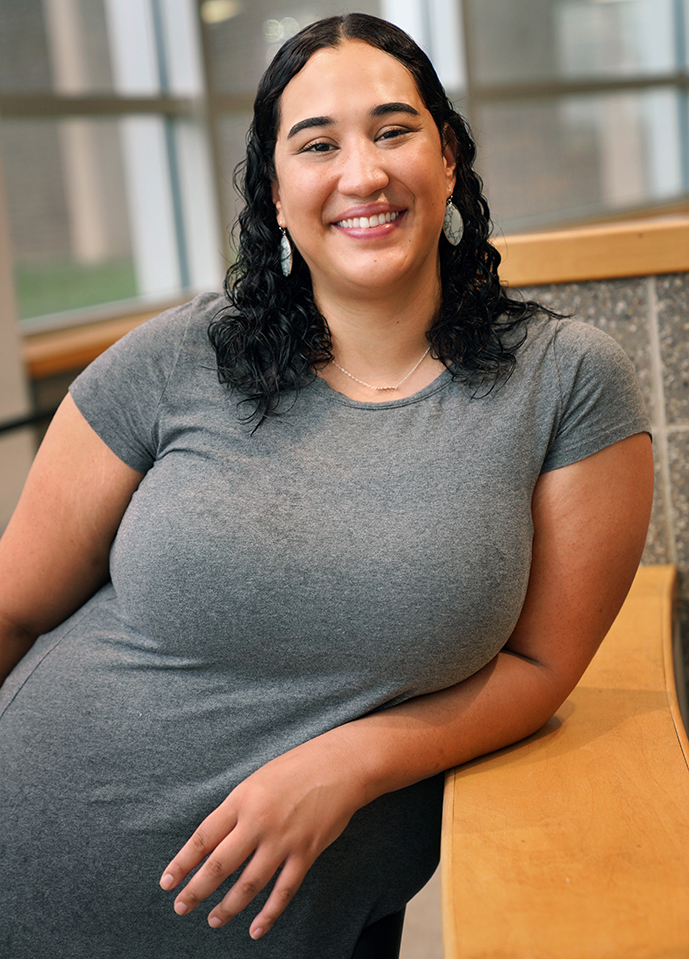 Nila Purifoy