GALESBURG — A Carl Sandburg College classmate asked Samantha Cozad during the fall semester if there was a place students could go on campus if they needed a regular bulk supply of menstrual products. 
When Cozad realized the answer was "no," she sprang into action.
"I took that to heart," Cozad said. "Things like that, they are not cheap at all. I can understand not being able to have those things. Being able to have it free and available for students, I just thought was a very big need."
That need has now been met, as Sandburg has partnered with Loving Bottoms Diaper Bank to offer free period kits and tampon kits as well as baby diapers and wipes in its Resource Room Campus Food Pantry on the Main Campus in Galesburg. Sandburg already offered feminine products in its restrooms, but the partnership with Loving Bottoms allows students to receive a regular monthly supply at one time. 
Cozad took her classmate's question to Anthony Law, Sandburg's coordinator of diversity and inclusion, and then to coordinator of student life Genny Stevens. Those talks led to Sandburg becoming the first community college to serve as a partner agency with Loving Bottoms, which covers 13 counties in west-central Illinois and has donated more than 1.5 million diapers since it was founded in 2015. The Galesburg-based organization's mission is to end diaper need and period poverty through access, education and advocacy. Lee Ann Porter, the founder and executive director of Loving Bottoms, said adding a location at Sandburg was a natural fit for students and others in need.
"We want them to go places that they're already going to be or where they can receive other help," Porter said. "To put it right on campus, where they already are, where they can get other services, it's kind of a no-brainer."
While Cozad's initial inquiry addressed period products, Sandburg's conversations with Loving Bottoms expanded the offerings to include diapers and wipes for parents on campus. According to Loving Bottoms' website, it costs families about $100 each month to diaper a child. 
"It's not just for moms. It's also for dads," Cozad said. "There's a need from them as well, and we wanted to make sure that we could branch out that way. The fact that we could expand and do it for diapers and things for parents as well was amazing."
Sandburg's supply includes period kits (which include 10 daytime pads, five overnight pads and five liners), tampon kits (which include five tampons, 10 daytime pads, five overnight pads and five liners), diapers that range from newborn size to Size 6 and baby wipes.
The display is part of the College's Resource Room Campus Food Pantry, which is restocked each month with supplies of fresh produce, freezer items, refrigerator items and shelf items from River Bend Food Bank.
"It gets a lot of foot traffic," Cozad said. "A lot of people will get to see it and be able to ask about it. I'm happy that it's in such a big spot where many students come in to get resources."
One question sparked a discussion that turned into a solution for Sandburg students.
"It's not talked about very much, and I'm glad that we have something like this right smack dab in the Resource Room," Cozad said. "Hopefully it can bring more conversation, more awareness to it."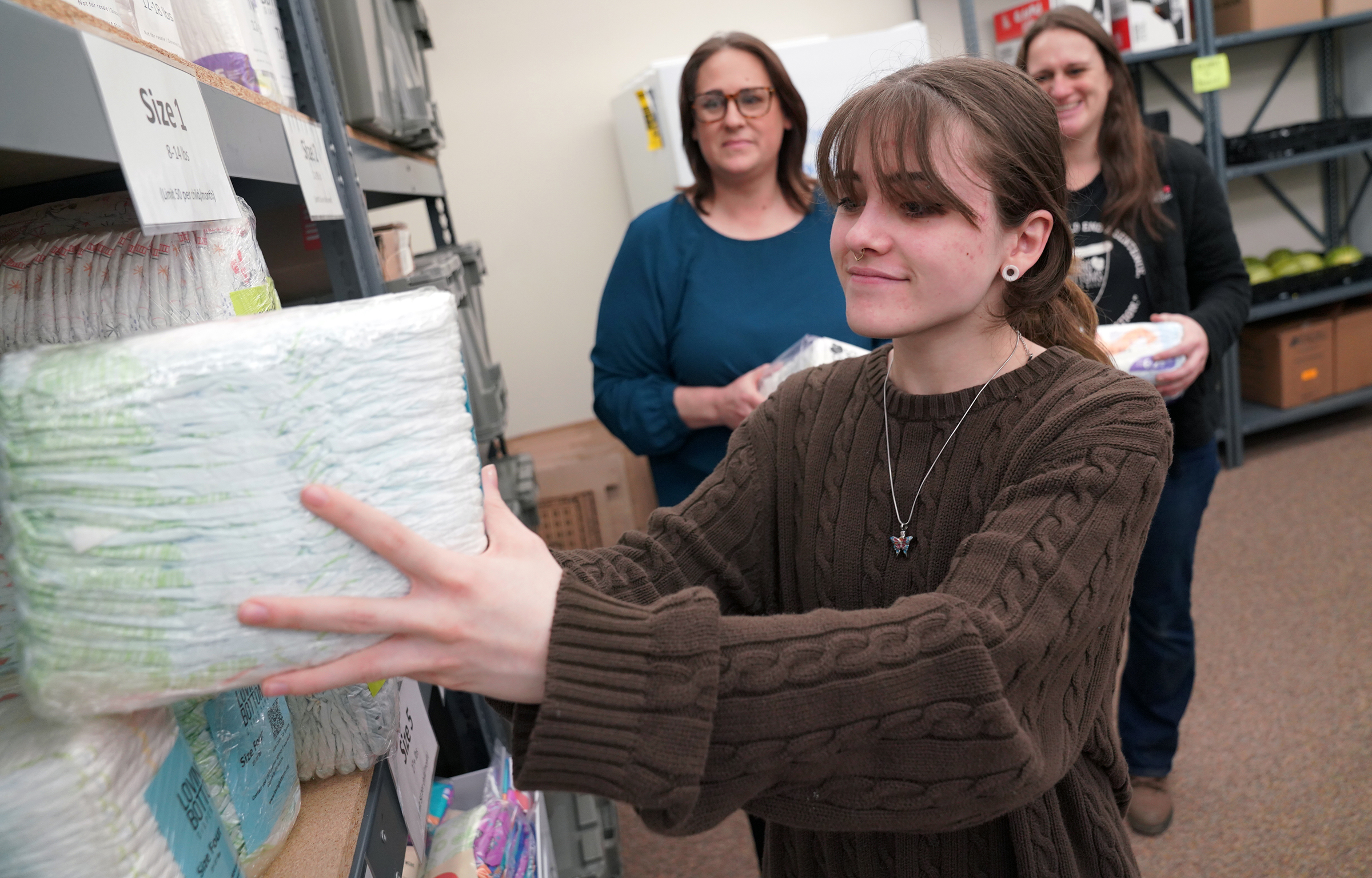 Carl Sandburg College student Samantha Cozad stocks a package of diapers in Sandburg's Resource Room Campus Food Pantry. Sandburg has partnered with Loving Bottoms Diaper Bank to offer feminine products, diapers and wipes free of charge to students in need.